What's New?
FTC Chairwoman Releases 2013 Annual Highlights
Federal Trade Commission Chairwoman Edith Ramirez released the agency's 2013 Annual Highlights today at the Spring Meeting of the American Bar Association's Section of Antirust Law in Washington emphasizing the agency's work to protect consumers and promote competition during the past calendar year.
"The hallmark of our work has been, and will continue to be, our ability to adapt established tools – law enforcement, policy initiatives and education – to address economic challenges and technological advances that Congress could never have imagined when it created the FTC," said Ramirez in her Highlights message.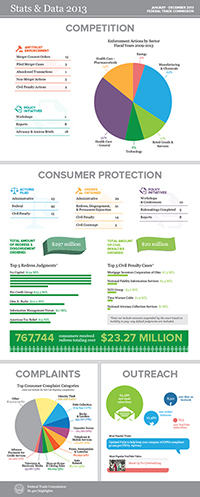 The agency's Enforcement Highlights address a range of law enforcement actions in industries including health care, technology, and energy and the environment. Promoting competition in the health care and pharmaceutical industries that reduces costs to consumers remains a top priority for the Commission and among the most notable accomplishments last year in this area, the FTC obtained two Supreme Court victories (FTC v. Actavis Inc., and FTC v. Phoebe Putney).
Focusing on the technology sector, the agency took its first actions involving mobile cramming and the Internet of Things. Law enforcement to stop consumer fraud continued to be a high priority for the agency along with its complementary order enforcement program. The FTC's actions resulted in redress orders of more than $297 million and civil penalty orders of $20 million.
As noted in Policy Highlights, the Commission filed 18 advocacy and amicus briefs on topics such as non-physician health care professionals, dental therapy education programs, and local taxicab regulations. Staff conducted 11 workshops on a range of topics including biologic medicines, native advertising, and the Internet of Things, to name a few. The Commission and staff also published 16 reports on topics including mobile payments and mobile privacy disclosures, among others. The FTC also continued to lead efforts to develop strong mutual enforcement cooperation and sound policy with its international partners.
Finally, the FTC's Education and Outreach Highlights recognizes the agency's work to alert businesses to compliance standards, and to alert consumers to the tell-tale signs of fraud and deceptive business practices. Among the agency's many educational products produced in 2013, the FTC released new guidance for media to spot false weight-loss claims; developed information for mobile app developers; hosted the first Military Consumer Protection Day; and launched its Competition Matters blog.
More statistics are available in the Stats & Data 2013 infographic. Archives of past Annual Highlights and Reports are available on the FTC website.
The Federal Trade Commission is celebrating 100 years of promoting competition and protecting consumers through law enforcement, policy and research initiatives, and consumer and business education. File a consumer complaint online or call 1-877-FTC-HELP (1-877-382-4357). To inform the Bureau of Competition about questionable business practices, write to antitrust@ftc.gov or call 202-326-3300.
Like the FTC on Facebook, follow us on Twitter, and subscribe to press releases for the latest FTC news and resources.